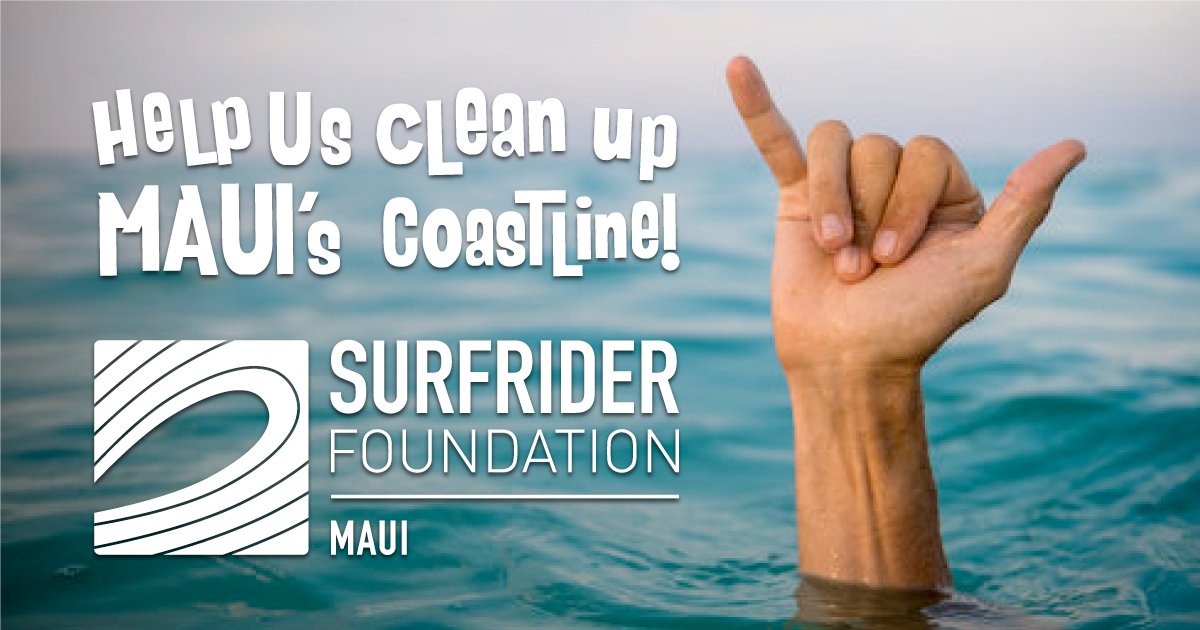 Social partnership with PixlBank + Surfrider Foundation Maui
LAHAINA, HI. – Windsurfing legend, Fred Haywood, together with Pacific Home Loans and Maui Jim have partnered with social good platform PixlBank to launch a campaign that will turn photos into funds to help clean up Maui's beaches and coastal waters.
The campaign will launch together with Fred Haywood's new book, Racing with Aloha, which hits virtual bookshelves around the world on September 1st. The book is an inspiring journey of a humble barefoot Maui boy who becomes a world champion in the water – both in the ocean and in the pool. From growing up on Maui, to becoming the fastest backstroker in America, to becoming the fastest windsurfer in the world, much of Fred's life (story) takes place in the water. And it was through the retelling of his story that Fred became determined to give back.
"While I was working on this book, I became really inspired and motivated to do something to give back and take care of the beaches and the ocean where I have spent much of my life."
Having surfed and windsurfed around the world, Fred was already familiar with the Surfrider Foundation and the incredible work they do to preserve, protect, and clean up the world's ocean and beaches. He also knew they had a local chapter on his island home of Maui.
Fred wanted to create something that would make it easy and fun for people to give back. He also wanted to create something that would inspire people to share their love for Maui and for the ocean. Through a mutual connection, Fred was introduced to the CEO of the social good platform PixlBank. As it turned out, their team was already developing a campaign called "Share the Aloha," which was being created to leverage and monetize the millions of photos taken each year by visitors and residents of Hawaii. The funds raised by these photos will be channeled directly to local organizations doing amazing work to preserve the local culture, support the local community, and protect and restore the natural beauty and delicate ecosystems of the Hawaiian islands. This seemed like the perfect partnership!
Together, they decided to create a precursor to the much larger Share the Aloha initiative, which is set to launch in October. For this first campaign, people will be able to show their love for Maui and the ocean by visiting the campaign page on the Racing with Aloha site. Once there, people can easily upload a photo of themselves throwing their best "Shaka," and share their photo on social media to unlock a $10 donation from Pacific Home Loans, up to $1000. Also, wherever photos are shared – in a text, email, direct message, or on social media – people can simply tap to give them a Boost with a donation. All of the money raised by these photos will go directly to Surfrider Foundation Maui to fund beach cleanups.
To help inspire people to share photos and motivate others to Boost those photos with donations, Fred's friends at Maui Jim have donated 30 pairs of sunglasses as prizes. Winners will even get to pick their favorite style on the Maui Jim website. And as an additional thank you (mahalo), Fred will be giving away personalized copies of his book to the first 25 people who share a photo in support of the campaign.
This campaign will give people a fun and rewarding way to share their photos and 'Share the Aloha' to help clean up Maui's beaches and coastal waters. Together, we will be taking photos that give back.
About Fred Haywood & Racing with Aloha –
Fred Haywood is an icon of windsurfing, but few know he is also an Olympic contender who swam a record-breaking backstroke alongside his friend Mark Spitz. In Racing with Aloha, he shares how, before he discovered speed sailing, he surfed with the likes of Gerry Lopez, exploring exotic undiscovered surf spots around the world. Only his friends know how deeply growing up on the island of Maui influenced Fred to carry his success with humility and generosity. Everyone he competed with experienced his desire for camaraderie over competition, his preference for fun over fanfare.
Learn more at https://racingwithaloha.com/
About PixlBank –
PixlBank is a new social good platform created by the passionate team at Good TRKR – a purpose-driven startup on a mission to inspire people to use their social reach for social good, by empowering them to invest their social currency in social change. Since their launch, they have partnered with major nonprofits, brands, and celebrities/influencers to create campaigns that have raised significant awareness and funds for various causes around the world. The company has received initial seed funding from two Silicon Valley tech icons, including Scott Cook, the co-founder of Intuit. PixlBank is a Disney Partner approved platform and the only tech startup to receive seed funding from the Starbucks Corporation.
Learn more at https://pixlbank.com/
About Surfrider Foundation Maui Chapter –
The Surfrider Foundation is a non-profit grassroots organization dedicated to the protection and enjoyment of our world's oceans, waves and beaches through a powerful activist network. Founded in 1984 by a handful of visionary surfers in Malibu, California, the Surfrider Foundation now maintains over 500,000 supporters, activists and members, with more than 80 volunteer-led chapters and 60 clubs in the U.S., and more than 400 victories protecting our coasts.
Learn more about the Surfrider Foundation Maui Chapter at https://maui.surfrider.org/
About Maui Jim –
Maui Jim got its start in 1980 as a small company selling sunglasses on the beach in Lahaina, Hawaii. Seeing a need in the market for technology that could combat intense glare and harmful UV while bringing the brilliant colors of the island to life, they engineered the revolutionary PolarizedPlus2® lens. Incorporated into seven new sunglass styles, their Classic Collection was introduced. They now offer over 125 styles of sunglasses, 100% of which are polarized and protect from 100% of UVA and UVB rays.
Learn more at https://www.mauijim.com/
About Pacific Home Loans –
Pacific Home Loans offers a wide variety of loans, from First-Time Home Buyer programs to VA loans to Alt Doc loans for the self-employed. They offer more programs than any other mortgage provider in the state of Hawaii, and are able to do this because they are both a mortgage banker and mortgage broker. This means that Pacific Home Loans can fund loans in-house for some of the quickest closings and lowest rates in Hawaii, along with the added benefit of many portfolio loans such as condotel, land, and construction to permanent to ensure all Hawaiian residential home loan needs are met. Pacific Home Loans is committed to providing high-level mortgage planning and guiding their clients to making informed decisions regarding what is likely to be one of life's biggest investments.
Learn more at https://pacifichomeloans.com/