Check out this year's Surfrider Maui Ocean Guardian Awards event here.
A big mahalo to all that attended our 2nd Annual Ocean Guardians event at the Sheraton in October. It was a great celebration and a special evening for all of the honorees that have given back so much.
At this fundraiser we shared with you the programs and initiatives we have been working on over the last year and thanked our 2017 Maui Ocean Guardians.
Our 2017 Maui Ocean Guardian Recipients were:
•Business /
Flatbread Company, Maui
- Flatbread Pizza Paia
•Community Member /
Les Potts
•Ocean Athlete -
Kai Lenny
•Special Waterman Legend-Victor Lopez Victor Fernandez Lopez
•Special Lifetime Achievement Award (Posthumously) John Severson -
John Severson's SURF
Here some pics of the event and at the bottom a detailed description of our Honorees. Mahalo again and hope to see lots of you again next year!
[gallery columns="2" link="file" size="medium" ids="2063,2082,2081,2080,2079,2078,2077,2076,2075,2074,2073,2072,2071,2070,2069,2068,2067,2066,2065,2064,2062,2061"]
2017 Maui Ocean Guardian Honorees:
• Business - Flatbread Pizza Paia has been supporting non-profits on Maui too numerous to list with their Benefit Night since they opened their doors in Paia in 2006.
---
• Community Member - Les Potts has been a driving force in keeping Honolua Bay and the surrounding seven miles clean. Beyond picking up litter by himself, he works with volunteers to remove abandoned vehicles and other large items. He is the key protector of one of Maui's most sacred peninsulas.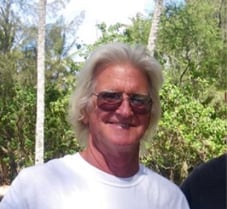 ---
• Ocean Athlete - Kai Lenny ultra-talented surfer, windsurfer, kitesurfer, six-time world stand-up paddle champion and pioneer of foiling. Kai recently won the WSL Puerto Escondido Challenge at end of July and in May completed his Downwind Voyage for Change. This was a statewide coastal cleanup initiative to bring awareness to plastic pollution in the Hawaiian Islands working with the local community members and organizations like Sustainable Coastlines Hawaii, Surfrider Foundation, and the Hawaii Wildlife Fund to clean up coastlines. Check out his new movie "Paradigm Lost" !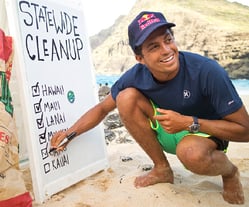 ---
• Special Waterman Legend - Victor Lopez All around waterman, pioneer of tow-in surfing at Peahi. Victor has been an influential patriarch of the Maui watermen's tribe since the 1970's, paving the way and teaching a whole generation of waterman by example and mentoring. Kai Lenny is one of his proteges. Victor is still charging Peahi and is an ocean guardian in the line up at Peahi. Victor's neighbor years back was John Severson, founder of Surfer Magazine.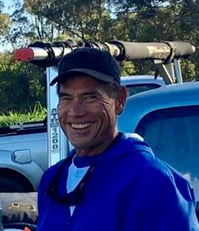 ---
• Lifetime Achievement Award- John Severson The artist, filmmaker, and founder of Surfer Magazine, he passed away peacefully on Maui on May 26th, 2017. Louise, his wife and lifelong companion, wrote: "John died here in Napili, in the house he loved, at the surf spot he loved. It was a beautiful sunny morning and four of his girls were around him."In the '50s he became the first person to create a large body of art relating to the Hawaii-California surf culture. Since then he has provided a steady output of oil paintings, watercolors, drawings, and prints. In 1958, John used his art, photography, and surfing passion to create a popular surf movie series. His films included SURF SAFARI, SURF FEVER, BIG WEDNESDAY, and PACIFIC VIBRATIONS. He is most well-known for defining surf culture as the publisher of SURFER magazine, the Bible of the Sport. Read John's full background at SURFER ART.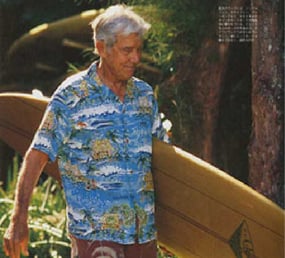 ---
Evening music by: Kanekoa describes their music as ukulele powered Hawaiian reggae folk rock. Kanekoa, a 2017 Na Hoku Hanohano award recipient has been playing together since 1999, melding elements of Hawaiian, Rock, Folk, Blues, Reggae and improvisation into a truly unique sound.